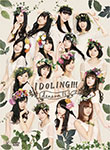 Idoling!!! Season 15 (アイドリング!!! Season 15) will be released on DVD on June 28.
The DVD box set contains 6 discs featuring the episodes of the variety show Idoling!!! broadcasted between May 27 and September 29, 2011 on Fuji TV.
It also includes their performances held at Nicohachi Live (ニコはちライブ) and Shibuhachi Live (渋はちライブ) during this period, and other bonus footage.
The total duration is about 1200 minutes.