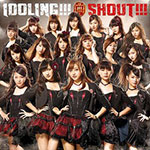 Idoling!!! will release their new single Shout!!! (シャウト!!!) on November 13.
It is the 21st single from Idoling!!!. The main vocalists are Sakai Hitomi, Asai Nao, Kikuchi Ami, Hashimoto Kaede, and Tamagawa Ramu.
3 editions are available. The coupling songs are different for each one of them.
The limited editions come with either a DVD or a Blu-ray featuring various versions of the music video, making-of, and bonus footage.
It includes a ticket for an event.
Idoling Neo is going to release the single Mero Mero on the same day. There will be a competition between the 2 idol groups in order to determine which one will rank the highest on the Oricon chart.
Regular Edition
CD

Shout!!! (シャウト!!!)
I'd Ring
Shout!!! (シャウト!!!) (Instrumental)
I'd Ring (Instrumental)
Limited Edition Type A
CD

Shout!!! (シャウト!!!)
I'd Ring
Shout!!! (シャウト!!!) (Instrumental)
DVD

Shout!!! (シャウト!!!) (Music Video)
Shout!!! (シャウト!!!) (Dancing Ver. 1)
Shout!!! (シャウト!!!) (Making-of)
Omake no Shout!!! (おまけのシャウト!!!)
Limited Edition Type B
CD

Shout!!! (シャウト!!!)
Ne Otome Xmas Night (寝乙女X'mas Night)
Ne Otome Xmas Night (寝乙女X'mas Night) (Instrumental)
Blu-ray

Shout!!! (シャウト!!!) (Music Video)
Shout!!! (シャウト!!!) (Dancing Ver. 1)
Shout!!! (シャウト!!!) (Dancing Ver. 2)
Shout!!! (シャウト!!!) (Making-of)
Omake no Shout!!! (おまけのシャウト!!!)
Music Video (PV)