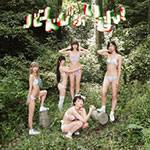 Band Ja Naimon! will release their new single Yuki Furu Yoru ni Kiss Shite (雪降る夜にキスして) on December 18.
3 editions are available. The tracklist is the same for each one of them. They have different covers designed by Steve Nakamura and Ai Madonna (愛☆まどんな).
The music video has been revealed.
The 2 songs of the single were written and composed by Ishige Akira (The Telephones).

Tracklist
CD

Yuki Furu Yoru ni Kiss Shite (雪降る夜にキスして)
Inuit Disco (イヌイットディスコ)
Yuki Furu Yoru ni Kiss Shite (雪降る夜にキスして) (Instrumental)
Inuit Disco (イヌイットディスコ) (Instrumental)
Music Video (PV)