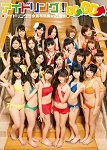 Idoling!!! Swimsuit Photobook in Ishigaki-jima Idoling!!! Go↑Go↑ (アイドリング!!! 水着写真集in石垣島 アイドリング!!!go↑go↑) will be released on October 19.
The photobook contains pictures of Idoling!!! members from 1st to 5th Generation. It includes photos in bikini and in cosplay.
It comes with a bonus DVD featuring off-shot movie.
The blu-ray Ishigaki Idoling!!! Gravure Idol no Blu-ray Ppoku Shitemimashitang!!! Kimi to Ita Natsu, also made in Ishigaki Island, will be released on November 21.