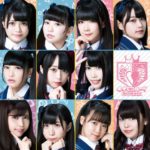 Iketeru Hearts will release their new single Karma Stripe (カルマストライプ) on October 25.
This is the idol group's 5th single.
Aise Risako, Imai Aki, Koizumi Shiika and Shiroki Leia make their first appearance as Iketeru Hearts members ; they joined the group last September.
Several editions will be available.
The CDs are different depending on the edition.
The DVD will contain the video clip, images and bonus video.
The types C and D will also contain self-introduction films, and selfies of the members.
Check out the MV below.
Tracklist
Regular Edition

CD

Karma Stripe (カルマストライプ)
Ikeike Big Hearts (イケイケ BIG HEARTS)
Dreaming love
Karma Stripe (off vocal)
Ikeike Big Hearts (off vocal)
Dreaming love (off vocal)

DVD

Karma Stripe (Music Clip)
Bonus picture
Enhanced WAV and MP4 files of songs and MV

Type A

Karma Stripe (カルマストライプ)
Ikeike Big Hearts (イケイケ BIG HEARTS)
Karma Stripe (off vocal)
Ikeike BIG HEARTS (off vocal)

Type B

Karma Stripe (カルマストライプ)
Dreaming love
Karma Stripe (off vocal)
Dreaming love (off vocal)

Type C & D

Karma Stripe (カルマストライプ)
Karma Stripe (off vocal)

Music Video (PV)