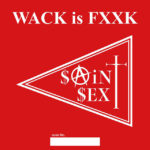 SAiNT SEX will release their new single WACK is FXXK on October 18.
This is the band's first single and will be released as an indie single.
SAiNT SEX is shuffle unit consisting of some members of the idol groups : BiS (Brand-new Idol Society), BiSH and GANG PARADE.
It is composed of the following members:
Pour Lui and Kamiya Saki (from BiS)
Aina The End and Ayuni D (from BiSH)
Aya Eight Prince, Yumeno Yua, and Yamamachi Miki (from GANG PARADE)
Watch the MV below.
Only one edition is available; the single will be sold in limited edition, with only 2,000 copies. This is an exclusive sale for the Tower Records Japan stores. More, a T-shirt will be also on sale.
The lyrics of WACK is FXXK were written by Watanabe Junnosuke and Matsukuma Kenta, and the music and arrangement were made by Matsukuma Kenta. This is a punk song.
Music Video (PV)