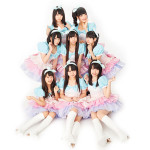 Iketeru Hearts' major debut single Let's Stand Up! is going to be released on February 10, 2016.
Iketeru Hearts were formerly known as Stand-Up! Hearts.
The MV has been revealed.
Tsunku♂ wrote the lyrics and composed the music of the title song.
It is a cute pop tune.
Former idol Takada Ayumi (Canary Club, Nice Girl Project) was in charge of the choreography.
The B-site track Shishin Kakutei (私信確定) was written and composed by Shikura Chiyomaru.
Happy Ending (ハッピーエンド) is the ending theme for the PS4 / PS Vita video game Punchline (パンチライン). It was made by Tak4 and Hamada Mikihiro.
Iketeru Hearts is a sister group of Afilia Saga.
Tracklist
Type A / B

CD

Let's Stand Up!
Shishin Kakutei (私信確定)
Let's Stand Up! (Off Vocal)
Shishin Kakutei (Off Vocal)
Limited Edition

CD

Let's Stand Up!
Shishin Kakutei
Happy Ending (ハッピーエンド)
Let's Stand Up! (Off Vocal)
Shishin Kakutei (Off Vocal)
Happy Ending (Off Vocal)

DVD

Let's Stand Up! (Music Video)
Making-of ()
Major debut announcement at 1st anniversary live  (メジャーデビューの瞬間!)
Music Video (PV)