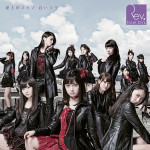 Rev. from DVL will release their new single Okujou no Sukima Shiroi Sora (屋上のスキマ白いソラ) on January 5th.
The new member Ikematsu Airi makes her first appearance on this single.
The tracklists and the covers were unveiled.
Check out the clip and the dance version of the song Okujou no Sukima Shiroi Sora below.
Several versions of the single will be available : an existing edition but not available for sale (WEB), two editions rated A and B (all containing a CD with different B-side songs depending on the edition).
In the early sales, the edition B will come with a photo of a member of the group randomly and a lottery card for the chance to participate in an event organized by the group.
The WEB edition includes only a CD as the Type B.
The edition A will include a different CD with a DVD extra (which will contain the video clip and those in dance version of the first song Okujou Sukima Shiroi Sora, accompanied by two bonus videos as the making of the clip and a live video).
Tracklist
Type A

CD

Okujou no Sukima Shiroi Sora (屋上のスキマ 白いソラ)
Ungaisouten Samurai Tamashii ! (雲外蒼天・サムライ魂!)
Yumemiru Dake Yori (夢見るだけより)
Okujou no Sukima Shiroi Sora (instrumental)
Ungaisouten Samurai Tamashii ! (instrumental)
Yumemiru Dake Yori (instrumental)

DVD

Okujou no Sukima Shiroi Sora (Music Video)
Okujou no Sukima Shiroi Sora (Dancing Version)

Bonus 1

Making of MV

Bonus 2

Rev.from DVL Live Tour Live And Peace vol.4 @ Akasaka BLITZ @ 2015.9.4
Type B

CD

Okujou no Sukima Shiroi Sora
Ungaisouten Samurai Tamashii !
Smile Jump (スマイル・ジャンプ)
Rev. from DVL Audio Drama Episode 1
Okujou no Sukima Sora (instrumental)
Ungaisouten Samurai Tamashii ! (instrumental)
Smile Jump (instrumental)
WEB

Okujou no Sukima Shiroi Sora
Ungaisouten Samurai Tamashii !
Happ

y Birthday

Okujou no Sukima Sora (instrumental)
Ungaisouten Samurai Tamashii ! (instrumental)
Happy Birthday (instrumental)
Music Video (PV)