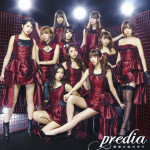 The new single of Predia Setsuna no Yoru no Naka de (刹那の夜の中で) will be on sale on January 27th.
This is the 4th major single of Predia.
Watch the video clip.
3 single versions are available. The CDs of each edition are different.
Furthermore, Predia gave a live at Zepp Tokyo on December 12th for the idol group's 5th anniversary.
Tracklist
CD Type A

Setsuna no Yoru no Naka de (刹那の夜の中で)
Tokyo Scandal (東京スキャンダル)
Neon to Rouge (ネオンとルージュ)
Setsuna no York no Nana de (instrumental)
Tokyo Scandal (instrumental)
Neon To Rouge (instrumental)
CD Type B

Setsuna no Yoru no Naka de
Tokyo Scandal
Setsuna no York no Nana de (instrumental)
Tokyo Scandal (instrumental)
CD Type C

Setsuna no Yoru no Naka de
Neon to Rouge
Setsuna no York no Nana de (instrumental)
Neon To Rouge (instrumental)
Music Video (PV)