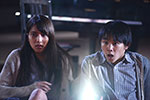 Iriyama Anna (AKB48) will be starring in the movie Aooni (青鬼).
It is a horror movie. The story is based on a popular game in Japan.
Aooni will be released in theaters on July 5.
Iriyama Anna said that she was surprised and happy when she knew that she got the leading role. However, she felt pressure and confused at the same time.
Annin also explained that it was very different from her job as an idol as she had to forget her her smile to express fear.
In Aooni, Iriyama Anna is co-starring with Suga Kenta who had won the Best Newcomer Award at the 30th Japan Academy Award in 2007.
A special website has been opened : http://aooni-movie.com/