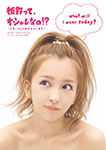 Itano Tomomi will release Itano tte, Osharenano!? Tomo, Tsuini Misechaimasu ~Tomomi Itano Presents Private Fashion Book~ (板野って、オシャレなの!? とも、ついにみせちゃいます) on September 20.
As its title suggests, it contains photos of Itano Tomomi wearing her private clothes. She also gives fashion tips and advice.
The book has 128 pages.
Moreover, Itano Tomomi's photobook Tomochin (ともちん) will go on sale on September 30.
She graduated from AKB48 on August 27.