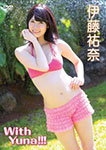 Ito Yuna's solo DVD With Yuna!!! was released on October 24.
The filming was done in Guam in July. This DVD shows Ito Yuna in various scenes in which she is wearing swimsuit or cosplay.
It includes making-of footage. It has a total length of 70 minutes.
Ito Yuna is a 4th generation member and #23 of Idoling!!!.