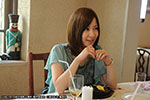 Ono Erena (ex AKB48) will be playing in the movie Shirayuki Hime Satsujin Jigen (白ゆき姫殺人事件). The title can be translated to The Snow White Murder Case.
The film is based on a novel of the same name by the best-seller writer Minato Kanae.
The story is about an office lady being murdered at a beauty company.
Ono Erena is going to play the character of Mitsushima Emi (満島栄美), an employee nicknamed Micchan (みっちゃん). It is the first time for 4 years, and the movie Sankaku (さんかく), that Erepyon performs the role of an office lady.
Shirayuki Hime Satsujin Jigen will be released in theaters on March 29, 2014 in Japan.