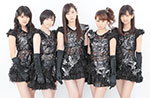 Juice=Juice's new single Black Butterfly / Kaze ni Fukarete (ブラックバタフライ/風に吹かれて) will be released on July 30.
As usual with the idol group from Hello! Project, this is a double A-side single.
The new artist photo and costumes of Juice=Juice have been unveiled.
The limited editions come with a bonus DVD and a ticket for a handshake event. More details will be announced later.
Furthermore, Miyamoto Karin's 1st photobook Karin (佳林) will be released on June 12.
Greeting DVDs of Kanazawa Tomoko and Uemura Akari will be on sale on June 27 and July 31.
Tracklist
Type A / C

CD

Black Butterfly (ブラックバタフライ)
Kaze ni Fukarete (風に吹かれて)
Black Butterfly (ブラックバタフライ) (Instrumental)
Kaze ni Fukarete (風に吹かれて) (Instrumental)

DVD (Type A)

Black Butterfly (ブラックバタフライ) (Music Video)

DVD (Type C)

Black Butterfly (ブラックバタフライ) (Dance Shot Ver.)
Black Butterfly (ブラックバタフライ) (Making of)
Type B / D

CD

Kaze ni Fukarete (風に吹かれて)
Black Butterfly (ブラックバタフライ)
Kaze ni Fukarete (風に吹かれて) (Instrumental)
Black Butterfly (ブラックバタフライ) (Instrumental)

DVD (Type B)

Kaze ni Fukarete (風に吹かれて) (Music Video)

DVD (Type D)

Kaze ni Fukarete (風に吹かれて) (Dance Sho Ver.)
Kaze ni Fukarete (風に吹かれて) (Making of)