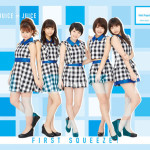 The new album of Juice=Juice entitled First Squeeze! will be on sale on July 15.
This is the first full studio album of Juice=Juice. It marks the debut of the idol group since its formation in 2013 under the Hello! Project.
The MV for Tsuzuiteiku Story (続いていくStory) and Choice & Chance, the tracklist and the covers were unveiled.
Several editions will be available: one regular edition and two Iimited ones rated A and B. The regular edition is a triple album: it will contain two regular CD (the first one including all the songs of the 5 first major singles of the group ; the second one including the songs of the 6th major single as well as brand new songs) and a CD extra which won't in limited editions (this CD will contain cover songs of former groups and soloist of Hello Project).
The limited editions will include only the first two first CDs with to a blu-ray or a DVD extra depending on the edition. The blu-ray will include all the music videos of the group's singles while the DVD will contain a video of a concert held in Sapporo (Hokkaido) on April 27, 2015.
Tracklist
CD1 "The Best Juice"

Ten Made Nobore! (天まで登れ!)
Romance no Tochuu (ロマンスの途中)
Watashi ga Iu Mae ni Dakishimenakya ne (Memorial Edit) (私が言う前に抱きしめなきゃね)
Samidare Bijo ga Samidareru (Memorial Edit) (五月雨美女がさ乱れる)
Ijiwaru Shinaide Dakishimete yo (イジワルしないで 抱きしめてよ)
Hajimete wo Keiken Chuu (初めてを経験中)
Hadaka no Hadaka no Hadaka no KISS (裸の裸の裸のKISS)
Arekore Shitai! (アレコレしたい!)
Black Butterfly (ブラックバタフライ)
Kaze ni Fukarete (風に吹かれて)
Senobi (背伸び)
Date ja nai yo Uchi no Jinsei wa (伊達じゃないよ うちの人生は)
CD2 "The Brand-New Juice"

Wonderful World
CHOICE&CHANCE
Ai・Ai・Gasa (愛・愛・傘)
Umaretate no Baby Love (生まれたてのBaby Love)
Erabareshi Watashitachi (選ばれし私達)
Ça va? Ça va? (サヴァサヴァ)
GIRLS BE AMBITIOUS
Ai no Diving (愛のダイビング)
Tick-Tock Watashi no Shun (チクタク 私の旬)
Mirai e, Saa Hashiridase! (未来へ、さあ走り出せ!)
Tsuzuiteiku STORY (続いていくSTORY)
Disc 3 "The Cover Juice"

Magic of Love (J=J 2015 Ver.) (original: Taiyou to Ciscomoon)
Kousui (J=J 2015 Ver.) (香水) (original: Melon Kinenbi)
Narihajimeta Koi no BELL (鳴り始めた恋のBELL) (original: Ongaku Gatas)
Scramble (スクランブル) (original: Goto Maki)
BABY! Koi ni KNOCK OUT! (BABY!恋にKNOCK OUT!) (original: Petitmoni) (Miyazaki Yuka, Kanazawa Tomoko, Uemura Akari)
Last Kiss (ラストキッス) (original: Tanpopo) (Takagi Sayuki, Miyamoto Karin)
Limited Edition A Blu-ray

MV Clips Collection (MV クリップス集)
Limited Edition B DVD

4/25 Sapporo Live (4/25 札幌ライブ)
Music Video (PV)