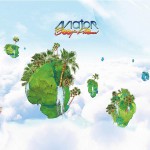 The new single of Especia entitled Aviator / Boogie Amora will be on sale on July 22.
This is the 3rd single if the idol group and its 2nd one featuring a double A-side.
The tracklist and the covers have been unveiled.
The official music videos of the songs have been posted on YouTube.
Several editions will be available : a regular one named "Cielo" and 3 limited ones named "Tierra", "Mar" and "Espacio".
As you may have noticed, the editions titles are in Spanish language. Each edition refers to a specific area of our world (ground, sky, sea and space).
The editions will contain, each one, a different CD. The regular edition will contain the main songs and their instrumental versions.
This disc is the first single of Especia to be released under a major label VERSIONMUSIC (from Victor Enntertainment).
Furthermore, the idol group released its first major mini album Primera in last February.
Tracklist
"Cielo" Regular edition CD

Aviator
Boogie Aroma
Aviator (Instrumental)
Boogie Aroma (Instrumental)
Limited editions

"Tierra" Edition CD

Aviator
Boogie Aroma
Aviator (Alternative version)
Aviator (Instrumental)

"Mar" Edition CD

Aviator
Boogie Amora
Fukigen Rendez-vous (PellyColo Remix) (不機嫌ランデブー)
Boogie Amora (Instrumental)

"Espacio" Edition CD

Aviator
Boogie Amora
Mucho GUSTO Especia 2014 Tour -Viva Final Espacio Edit-
Music Video (PV)