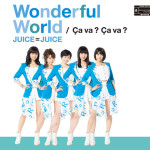 Juice=Juice will release their 6th single Wonderful World / Ça va ? Ça va ? (サヴァサヴァ) on April 8.
The single contains the main songs Wonderful World and Ça va ? Ça va ?. It contains a double A-side.
The covers and the tracklists were unveiled us. The music video of the song Wonderful World was recently posted on YouTube.
The single will be released in several editions with different covers : two regular editions rated A and B (including only the CD) and four limited editions rated A, B, C and D (each including a different DVD surcharge). Will also release a special box set containing all versions of the single with a serial number card for, after a draw, having chance to win a ticket to attend one of the events organized by the group.
As you have probably noticed, Ça va ? Ça va ? (meaning "Are you okay ? Are you okay ?") is a French title which is the first title of a disc of the group of foreign language other than English and Japanese). The DVDs contain the music videos of the main songs and other videos on the song information (performance video, choreography, etc …).
Discover the music video of the song Wonderful World below.
Tracklist
Limited A & C, Regular A Editions CD

Wonderful World
Ça va ? Ça va ? (サヴァサヴァ)
Wonderful World (Instrumental)
Ça va ? Ça va ? (Instrumental)
Limited B & D, Regular B Editions CD

Ça va ? Ça va ? (サヴァサヴァ)
Wonderful World
Ça va ? Ça va ? (Instrumental)
Wonderful World (Instrumental)
Limited Edition A DVD

Wonderful World (Music Video)
Limited Edition B DVD

Ça va ? Ça va ? (Music Video)
Limited Edition C DVD Tracklist

Wonderful World (Dance Shot ver.)
Wonderful World (Jacket & MV Making, Off-shot)
Limited Edition D

Ça va ? Ça va ? (Dance Shot ver.)
Ça va ? Ça va ? (Jacket & MV Making, Off-shot)
Music Video (PV)