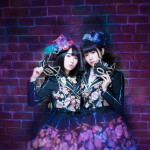 Petit Milady's 2nd album Cheri Cheri? Milady! will be released on May 13.
The CD contains 11 tracks including Petit Milady's latest singles, and also new songs.
Check out the MV.
The announcement was made by Yuki Aoi and Taketatsu Ayana during an event broadcast on Nico Nico to celebrate the 2nd anniversary of the idol group.
Both girls were wearing mysterious costumes and cat masks.
The music video for the lead song Fantastique♥Phantom was unveiled during the show.
The limited edition come with either a DVD or a Blu-ray featuring music videos or bonus footage depending on the version.
Moreover, Petit Milady will participate in release events on May 23-24 in Tokyo, Hiroshima and Osaka.
The idol group will hold a live performance on July 19 at Maihama Amphitheater, Chiba.
Tracklist
CD

Hi no Ito Rinne no Gemini (緋ノ糸輪廻ノGemini)
Kirari Kirari (キラリキラリ)
Rainbow Jump!!
everyday shine3
Tsuukon no Ichi Nanometer (つうこんのイチナノメートル)
Tokimeki Rocket (トキメキ☆ロケット)
Update no Sakamichi (アップデートの坂道)
Yasashii Kaze (優しい風)
Koi wa Milk Tea (恋はみるくてぃ)
10. Fantastique♥Phantom
11. パレーディア
DVD

Fantastique♥Phantom (Music Video)
Audio Commentary & Movie Documentary (オーディオコメンタリー付きドキュメンタリー映像)
"Petit Milady no Cute de Pop na Twinkle Holiday ~Himitsu no Kobeya e Yokoso~" (撮り下ろし映像「petit miladyのキュートでポップなTwinkle Holiday☆~ヒミツの小部屋へようこそ~」)
Blu-ray

Koi no Milk Tea (Music Video)
Hi no Ito Rinne no Gemini (Music Video)
Fantastique♥Phantom (Music Video)
Music Video (PV)
https://youtube.com/watch?v=6Nk83JNkgCk%3Frel%3D0