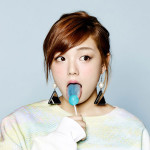 Shinozaki Ai's 1st solo single A-G-A-I-N will be released on April 29.
Shinozaki Ai is a famous gravure idol and a former member of AeLL.
Check out the MV with English subtitles, the lyric video and the teaser.
This single celebrates the 10th anniversary of Shinozaki Ai's debut in the entertainment industry.
The artwork has been unveiled. Ai-chan shows an innocent and sexy expression while licking a candy and her tongue turned blue.
The lead song A-G-A-I-N was written by Kami Kaoru.
The B-side track Rainy Day is the theme song for the movie Tokyo Yami Mushi Pandora (東京闇虫パンドラ) starring Shinozaki Ai. The lyrics were written by O-live. He has also composed the music.
The movie is going to be released in theaters on April 4 in Japan.
The 3rd track Binetsu Annai Nin (微熱案内人) was made by Barazono Avu.
The CD comes with a 12-page photo booklet or a poster-type picture of the gravure idol depending on the edition.
It is produced by Par Westerlund and Lauren Dyson.
The digital version of the single will be on sale on April 15.
Tracklist
CD

A-G-A-I-N
Rainy Blue
Binetsu Annai Nin (微熱案内人) (Acoustic Piano Version)
Music Video (PV)