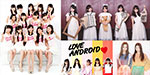 Starmarie, Pink Babies, Love Android and Faint Star will participate in CLAS:H 2015 as guest stars on May 9.
Moreover, the members selected to be part of a new Indonesian idol group will be announced at the Grand Final.
CLAS:H (Cosplay Live Action Show Hybrid) is an annual national cosplay competition in Indonesia since 2011.
It is the only cosplay competition event with nationwide scale in Indonesia. This year the festival will be held in 5 cities including Surabaya, Yogyakarta, Bandung, Medan and Jakarta (Grand Final at CLAS:H Stage –  Ennichisai Blok M). CLAS:H 2015 theme is "Year of Idols".
A collaboration event with Thanks Creative (Japanese talent management in Indonesia) to form a new idol group that will be an official cover song artists for Japanese idol groups. The new unit will be consisting of 3 girls with age range 10 – 25 years old. This idol group will be joining an event in Indonesia and also go to Japan arround Fall 2015. The participants hav to choose one of the songs from the idols that will be performing at CLAS:H (Pink Babies, Starmarie, Love Android, Faint*Star), upload their video to YouTube, and pass the round auditions. The selected members will be performing with the guest artists at Grand Final CLAS:H 2015.
Diasta Priswarini, ex-member of JKT48 is being choosen to be the promotion ambassador for this event.
More information : Official website