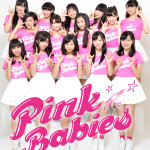 Pink Babies is a Japanese idol group formed in August 2013.
It currently consists of 14 members.
Biography / History
The idol unit is produced by Tokura Shunichi.
It is a sister group of 1970s j-pop unit Pink Lady (ピンク・レディー). The girls cover some of their songs.
Pink Babies perform dance music.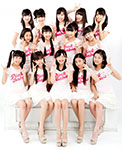 Their official YouTube channel was opened in May 2014.
Pink Babies released their debut single Wanted (ウォンテッド(指名手配)) in July 2014.
The girls held their 1st live performance in August 2014 at Mt. Rainier Hall Shibuya Pleasure Pleasure in Tokyo.
In September 2014, Pink Babies members appeared on the TV show Japan in Motion broadcast on Nolife in France.
Sato Kotono, Suzuki Chinatsu and Yoshida Aina participated in the festival C'est bon Jaken in Paris, France, in October 2014. The event aimed to promote Hiroshima for foreign tourists.
Pink Babies participated in Toulouse Game Show (TGS) in Toulouse, France, in November 2014.
The girls were appointed junior PR ambassadors of Japanese food by the Ministry of Agriculture, Forestry and Fisheries in April 2015.
The idol group participated in CLAS:H 2015 in Jakarta, Indonesia, in May 2015.
Pink Babies performed at Japan Expo 2015 in Paris Nord Villepinte, France, in July 2015.
Profile
Pink Babies (ピンク・ベイビーズ)
Years active : 2013 – present
Label : –
Agency : Pan Pacific
Members
Asada Mayu (朝田茉侑)
Aralawa Saho (荒川紗穂)
Oomori Rio (大森莉緒)
Kuriyama Rina (栗山莉奈)
Sakurai Yui (櫻井優衣)
Sato Kotono (佐藤琴乃)
Shiseki Rio (始関琉央)
Suganu Mamayu (菅沼茉祐)
Suzuki Sara (鈴木咲良)
Suzuki Chinatsu (鈴木千夏)
Furukawa Yukari (古川友佳理)
Masaki Kotona (正木琴菜)
Yabuta Nanaho (籔田奈々帆)
Yoshida Aina (吉田亜衣奈)
Discography
Singles
16/07/2014 : Wanted (ウォンテッド(指名手配))
Albums
Links
News