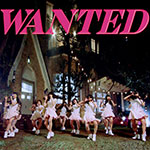 Pink Babies' new single Wanted (ウォンテッド(指名手配)) was released on July 16.
This is the debut single from Pink Babies.
Check out the music video and the trailer.
Pink Babies is a sister group of Pink Lady. Wanted is a cover of the idol group's 5th single released in 1977.
The lyrics and the music were written and composed by Aku Yu and Tokura Junichi.
The 2014 version of the song has new arrangements.
Only one edition of the CD is available.
Furthermore, Pink Babies are going to hold their 1st live performance on August 24 at Mt. Rainier Hall Shibuya Pleasure Pleasure in Tokyo.
Tracklist
Wanted (ウォンテッド(指名手配))
Wanted (ウォンテッド(指名手配)) (Dance Ver.)
Wanted (ウォンテッド(指名手配)) (Instrumental)
Wanted (ウォンテッド(指名手配)) (Dance Ver.) (Instrumental)
Music Video (PV)
Trailer