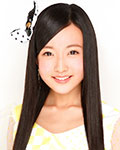 NMB48 announced that Suto Ririka temporarily suspended her activities from July 17 because of a retinal detachment.
It has been reported on the official blog that Suto Ririka had undergone surgery. She needs one month of rest in order to fully recover.
Suto Ririka is a member of NMB48 Team N. She joined the idol group in late 2013 after the 1st AKB48 Group Draft Kaigi (AKB48グループドラフト会議).
We wish her a quick recovery.