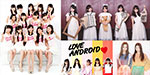 Starmarie, Pink Babies, Love Android and Faint Star will participate in CLAS:H 2015 as guest stars on May 9.
Moreover, the members selected to be part of a new Indonesian idol group will be announced at the Grand Final.
CLAS:H (Cosplay Live Action Show Hybrid) is an annual national cosplay competition in Indonesia since 2011.