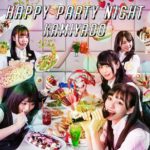 Kamiyado will release their new single Happy Party Night on May 9th.
This is the 3rd single of the Harajuku idol group Kamiyado.
The short version of the MV has been posted on YouTube.
The title song is an electro pop tune.
The single will be released in regular and limited edition.
The DVD will contain the long version of the music video and its making-of.
Tracklist
CD

Happy Party Night
Suki to Iwasete Moratte mo Ii desu ka? (好きといわせてもらってもいいですか?)
Happy Party Night (Original Karaoke)
Suki to Iwasete Moratte mo Ii desu ka? (Original Karaoke)
DVD

Happy Party Night (Music Clip)
Happy Party Night (Making)
Music Video (PV)