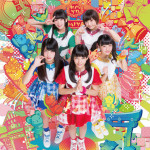 Kamiyado (神宿) is a Japanese idol group formed in September 2014. They are also known as KMYD.
It currently consists of 5 members. Each one has been assigned a color.
The idol unit is based in Harajuku, Tokyo.
Biography / History
The origin of their name is a combination of the kanjis 神 ("kami") from Meiji Shrine (明治神宮) and 宿 ("yado") from Harajuku (原宿).
The acronym for KMYD is Kawaii (可愛い!) Max (全力!) Yell (応援!) Dream (夢!).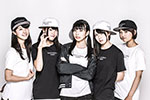 The leader is Hashima Miki.
Ichinose Mika is the youngest member, but she is also the center.
Hashima Miki and Mei are sisters.
Kamiyado held their 1st one-man live in September 2014 at Roppongi Bee-Hive, Tokyo.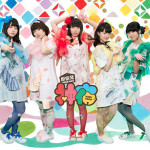 Ichinose Mika played in the movie My Friendship Kilt (マイ・フレンドシップ・キルト) along with Ishino Riko (Idol Renaissance), Igashira Manami (X21), Komatsu Moka (Hakoiri♡Musume), Noda Mami (Sunmyu). The film was released in August 2015.
The girls host the internet program Kamiyado tte Nande Show (神宿ってなんで Show). It is broadcast every Friday night on Showroom..
Kamiyado collaborated with various fashion brands, such as galaxxxxy, for their costumes in February and March 2016.
In April 2016, the idol group teamed up with Tower Records to create the label Kamito (神塔).
The single Harajuku Sentai! Kamiyado Ranger / Genkai Philosophy (原宿戦隊!神宿レンジャー / 限界フィロソフィー) is going to be released under this label in June 2016.
Profile
Kamiyado (神宿)
Years active : 2014 – present
Label : –
Agency : –
Members
Hashima Miki(羽島みき) – Yellow
Koyama Hina (小山ひな) – Pink
Hashima Mei (羽島めい) – Blue
Sekiguchi Naho (関口なほ) – Green
Ichinose Mika (一ノ瀬みか) – Red
Discography
Singles
KMYD
Ano Musume ni Bareru Youna… (あの娘にばれるような・・・)
Bi Bi Bi (ビ・ビ・ビ)
Hajimari no Kane wo Narase (はじまりの鐘を鳴らせ)
Parachute Love (ぱらしゅ~と☆らぶ)
Hissatsu! Chou Kamiyado Senpuu (必殺!超神宿旋風)
Summer Dream
Zenkai! Kamiyado World (全開!神宿ワールド)
28/06/2016 : Harajuku Sentai! Kamiyado Ranger / Genkai Philosophy (原宿戦隊!神宿レンジャー / 限界フィロソフィー)
Albums
Links
News