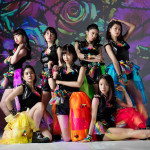 Sunmyu (さんみゅ~) is a Japanese idol group formed in July 2012 by Sun Music. They were formerly known as Sun-μ (β),
It currently consists of 6 members.
The leader is Nishizono Misuzu.
Kinoshita Ayana is also an actress and a model.
The girls perform original and cover songs inspired by 1980s idols such as Mizukoshi Keiko and Okada Yukiko.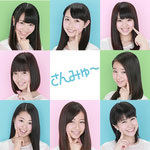 The name Sunmyu is a diminutive of Sun Music, the agency to which it belongs.
Their catchphrase is "Bright, energetic and refreshing! Pure idols of the 21st century!" (明るく、元気に、爽やかに! 21世紀最初の純白アイドル!).
Biography / History
At its creation, Sunmyu was consisting of 10 members selected among 1000 applicants.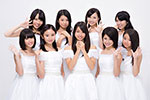 Goto Tsubasa Jenni withdrew from the idol group in September 2012.
Sunmyu held their 1st one-man live in November 2012.
Their major debut single Kuchibiru Network (くちびる Network) was released in January 2013.
Nakayama Masae resigned in April 2013.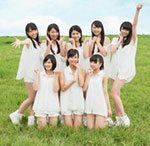 Sunmyu released their first original song Koi ga Ai Nanda (これが愛なんだ) in November 2013.
Kobayashi Yayoi has been appointed as tourism ambassador of the city of Nara in September 2014. She is from this area.
Kyogoku Tomoka graduated in January 2015. Her goal is to become a professionnal dancer.
Nishizono Misuzu was appointed PR ambassador of her hometown Izumisano in March 2015.
Sunmyu's first video collection Pure White ~Live & Music Clip~ was released on DVD in July 2015.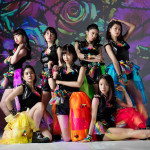 Japanese singer, talent and television personality Becky wrote the lyrics and composed the music of their 9th single Toge Toge (トゲトゲ) on sale in October 2015. This disc was their first one to reach the top 5 on the Oricon chart.
The girls are starring in the movie Nakano JK ~Taikesu na Kyuujitsu~ (中野JK〜退屈な休日〜) which is going to be released in October 2015.
Yamauchi Haruka announced her graduation in December 2015.
Profile
Sunmyu (さんみゅ~)
Years active : 2012 – present
Label : Pony Canyon
Agency : Sun Music Production
Members
Kinoshita Ayana (木下綾菜)
Kobayashi Yayoi (小林弥生)
Niihara Sena (新原聖生)
Nishizono Misuzu (西園みすず)
Noda Mami (野田真実)
Hasegawa Reika (長谷川怜華)
Former Members
Goto Tsubasa Jenni (後藤翼ジェニー)
Nakayama Masae (中山雅恵)
Kyogoku Tomoka (京極友香)
Yamauchi Haruka (山内遥)
Discography
Singles
04/08/2012 : Kuchibiru Network (くちびる Network) (as Sun-μ(β))
03/11/2012 : First Date (ファースト・デイト) (as Sun-μ(β))
23/01/2013 : Kuchibiru Network (くちびる Network)
24/04/2013 : Hoho ni Kiss Shite (ほほにキスして)
03/07/2013 : Natsu Matsuri (夏祭り)
20/11/2013 : Kore ga Ai Nanda (これが愛なんだ)
19/03/2014 : Haru ga Kite Bokutachi wa Mata Sukoshi Otona ni Naru (春が来て僕たちはまた少し大人になる)
02/07/2014 : Junjou Mermaid (純情マーメイド)
19/11/2014 : Hatsuyuki no Symphony (初雪のシンフォニー)
18/03/2015 : Hajimari no Melody (はじまりのメロディ)
07/10/2015 : Toge Toge (トゲトゲ)
Albums
06/08/2014 : Mirai Chizu (未来地図)
Links
News