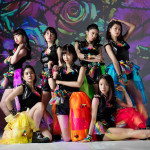 Sunmyu's 9th single Toge Toge (トゲトゲ) will be on sale on October 7.
Japanese singer, talent and television personality Becky wrote the lyrics and composed the music. She is part of Sun Music Production like the idol group.
According Nishizono Misuzu, all the members of Sunmyu were shocked because this song is a 180-degree turn, it is different from their previous ones.
On their new artist picture, they seem to have changed their image of wise girls. Unlike their usual white costumes, they are wearing black outfits designed by Becky.
Nishino Misuzu and Kinoshita Ayana told that they were happy and excited by these changes.
Their new song Toge Toge (トゲトゲ) will be performed for the first time at rhe Tokyo Idol Festival 2015.
Moreover, Sunmyu Live 2015 Junpaku Angya ~Natsu~ (さんみゅ~Live2015 純白行脚~夏~) concert tour will be held from August 15 to 23 in Osaka, Fukuoka and Tokyo.
Tracklist
Type A

CD

Toge Toge (トゲトゲ)
Boku wa Koko ni Iru (僕はココにいる)
Toge Toge (Instrumental)
Boku wa Koko ni Iru (Instrumental)

DVD

Music Video
Music Video ~Dance Ver.~
Making-of (撮影メイキング
Type B

CD

Toge Toge (トゲトゲ)
?? (タイトル未定)
Toge Toge (Instrumental)
?? (Instrumental)

DVD

?? (収録内容未定)
Regular Edition

CD

Toge Toge
Boku wa Koko ni Iru
Toge Toge (Instrumental)
Boku wa Koko ni Iru (Instrumental)
Member Solo Editions

CD

Toge Toge
Toge Toge (Instrumental)