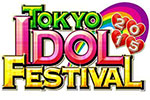 Tokyo Idol Festival 2015 (東京アイドルフェスティバル2015) will be held on August 1-2 in Odaiba, Tokyo.
SKE48 and Deep Girls are going to participate in TIF 2015.
The time table has been announced.
There are 250 special invitations for foreign fans for each day of the event. They are offered on a first-come-first-serve basis.
You can find further information about these invitations on this page.
A total of more than 150 Japanese idol groups coming from all the regions of the country are expected at the Tokyo Idol Festival 2015. 41000 fans attended the event last year.
The members will participate in various activites such as live performances, meet-and-greet sessions with fans…
The time table of Tokyo Idol Festival 2015 is available on this page.
This post will be updated with all the latest news about the world's biggest idol festival.
Line-up :

Idoling!!!
iDOL Street e-Street '15
iDOL Street w-Street '15
Akishibu Project
Alice in Alice
AnMiRan
Eien♡Shoujo
SKE48
Osaka✩Syunkasyuto
Otome no Junjo
Otome Brave
Oyayubi Princess
Caramel
Kiyochi Ryujin 25
Sakura Ebi's
Sakura Gakuin
The Hoopers
Sanspo Idol Reporter (SIR)
C.M.T
Shinozaki Ai
Jumpin' & Suzuca
Spl∞ash
3B Junior
Through Skills
sendai☆syrup
Chubbiness
Dear Stars
TPD Dash!!
Terashima Yufu
Tenkoushoujo Kagekidan
Deep Girl
Tokimeki♡Sendenbu
Dream5
nananon
Neo from Idoling
Versus Kids
Bakusute Sotokanda Icchome
Passpo✩
Hachaketai from Passpo✩
Batten Showjo Tai
BudLaB
Haruna Luna
Vienolossi
Bitter & Sweet
BiSH
FYT
Pour Lui Parallel Japan
Fudanjuku
Petit Passpo✩
predia
Predianna
Houkago Princess
Magical✩Dreamin'
Maria
mimimemeMIMI
Mirai Skirt
MILCS
Musubizm
Muto Ayami
Yuiga Dokuson
Yoshida Rinne
Lagoon Blue
LoVendoЯ
Re:Girls
Shooting Star Girls
ry-moom
Ru:Run
凸凹凸凹 ‐Ruri Rori‐
The World Standard
Watchmina