Otome Shinto (乙女新党) is a Japanese idol group formed in December 2012.
It currently consists of 6 members. Each one has been assigned a color.
The concept of the unit is that they are middle school and high school students who are fighting to bring their positive attitude and their energy to people while trying to become popular.
Biography / History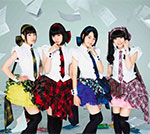 Otome Shinto released their debut single Mousou Koukan Nikki (もうそう★こうかんにっき) in March 2013.
In September 2013, Aoi Wakana appeared in a CM for the biscuits Bits Sand (ビッツサンド) from Yamazaki Nabisco (ヤマザキナビスコ).
Otome Shinto performed the theme songs for the anime series GJ-bu (GJ部), Kitakubu Katsudou Kiroku (帰宅部活動記録), Todofuken R (47都道府犬R), Nyamen (にゃ~めん), Ai Tenchi Muyo! (愛・天地無用!).
Arakawa Chika and Aoi Wakana graduated in July 2014.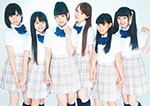 As a result, audition was held in May 2014. The results were announced during their graduation live performance. 4 new members were recruited in order to replace them : Sonohara Arisa, Hasegawa Airi, Ogata Mayu, Aihara Mari.
In July 2014, Tajiri Ayame and Takahashi Yurika formed the new unit Ayame to Yurika from Otome Shinto (あやめと優里花from乙女新党). The duo released the digital single Dekoboko Kaiketsu Sensation (凸凹解決せんせーしょん). It is the theme song for the light novel and anime series Jinsei (人生相談テレビアニメーション『人生』).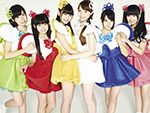 The members participated in a new show titled Otome Shinto no Nihon wo Genki ni Suru TV… Dekiru Hani de. (Kari) (乙女新党の日本を元気にするTV…できる範囲で。(仮)). This regular event started in November 2014 at Akiba Cultures Theater, Tokyo, and was broadcast on NicoNico (ニコニコ).
Otome Shinto and Party Rockets formed the special unit Otome Rockets (乙女Rockets) in late 2014. Both idol groups held a joint live tour in March 2015.
They threw the ceremonial first pitch before the Eastern League baseball game Yomiuri Giants vs Tohoku Rakuten Golden Eagles in May 2015.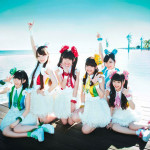 The music video for their 6th single Kimi to Pecan Natsu Sengen!!! (キミとピーカン☆Natsu宣言っ!!!) was shot in Cairns, Australia. The girls challenged bungee jumping.
Otome Shinto and fashion brand Spinns (スピンズ) started a collaboration to celebrate this release in May 2015. Products featuring the idol group were on sale in the shops. The members also participated in various events.
The idol group collaborated with French sunglasses brand Nunettes in June 2015.
Hasegawa Airi went on hiatus due to poor physical health in October 2015.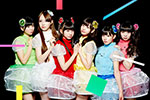 The girls turned into Tsuchinoko, a mythical snake-like creature from Japan, for their 7th single Tsuchinoko tte Iru to Omou…? (ツチノコっていると思う…?♡) on sale in November 2015.
The 360° virtual reality virtual video of Shin Otome Shinto no Uta (新・乙女新党のうた) was released in December 2015. The song was recorded during a live performance.
Otome Shinto 1st Live Tour ~Tsuchinoko Sagashite Tokyo Nagoya Osaka~ (乙女新党ワンマンライブツアー2015~ツチノコ探して東名阪~) was held in December 2015.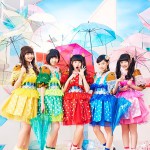 Their 8th single Ame to Namida to Otome to Taiyaki (雨と涙と乙女とたい焼き), on sale in March 2016, is the ending theme for the anime Nurse Witch Komugi (ナースウィッチ小麦ちゃんR). The idol group members also perform as voice actresses in the anime.
Otome Shinto and Hello Kitty will be starring in a musical at Sanrio Puroland in March 2016.
Hasegawa Airi resumed activities in April 2016.
The idol group is going to release its 2nd and last album Otome Shinto Dai Ni Maku ~Tabidachi no Uta~ (乙女新党 第二幕 ~旅立ちのうた~) in June 2016.
Otome Shinto are going to disband in July 2016 after a last live performance at Tsutaya O-West in Tokyo.
Profile
Otome Shinto (乙女新党)
Years active : 2012 – 2016
Label : Fuwa Fuwa Record
Agency : –
Members
Tajiri Ayame (田尻あやめ) – Yellow
Takahashi Yurika (高橋優里花) – Pink
Sonohara Arisa (其原有沙) – Red
Hasegawa Airi (長谷川愛里) – White
Ogata Mayu (緒方真優) – Green
Aihara Mari (相原まり) – Blue
Former Members
Arakawa Chika (荒川ちか) – Red
Aoi Wakana (葵わかな) – Blue
Discography
Singles
20/02/2013 : Mousou★Koukan Nikki (もうそう★こうかんにっき)
07/08/2013 : 2 Gakki Debut Daisakusen!! (2学期デビュー大作戦!!)
27/11/2013 : Ojuken Rock'n'Roll (お受験ロッケンロール)
05/03/2014 : Sakura Countdown (サクラカウントダウン)
26/11/2014 : Viva! Otome no Daibouken!! (ビバ!乙女の大冒険っ!!)
27/05/2015 : Kimi to Pecan Natsu Sengen!!! (キミとピーカン☆Natsu宣言っ!!!)
18/11/2015 : Tsuchinoko tte Iru to Omou…? (ツチノコっていると思う…?♡)
02/03/2016 : Ame to Namida to Otome to Taiyaki (雨と涙と乙女とたい焼き)
Albums
25/06/2014 : Otome Shinto Dai Ichi Maku ~Hajimari no Uta~ (乙女新党 第一幕 ~始まりのうた~)
29/06/2016  Otome Shinto Dai Ni Maku ~Tabidachi no Uta~ (乙女新党 第二幕 ~旅立ちのうた~)
Links
News