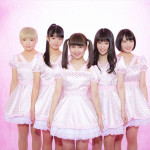 Takahashi Yurika, former leader of Otome Shinto, which disbanded in July after their final live performance at Tsutaya O-WEST, announced her return on stage!
Indeed, she went back to zero by founding a new idol group named Ichigo Milk Iro ni Somaritai. (いちごみるく色に染まりたい.), of which she is the leader and also producer. The group consists of herself and four other members.
The girls have just been officially introduced. They are Takahashi Yurika (高橋優里花), Yanagi Sorami (柳宙見), Ashizaka Sana (芦坂早菜), Terao Nene (寺尾音々), and Kawasaki Miyu (川崎実祐).