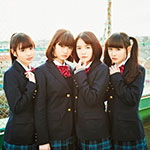 Arakawa Chika and Aoi Wakana announced their graduation from Otome Shinto. Both girls are going to leave the idol group in July.
Otome Shinto are going to recruit new members to replace them.
Arakawa Chika and Aoi Wakana are planning to continue their activities as actresses.
Arakawa Chika explained that she decided to graduate because of poor physical health. She said that she had reached her limit with her activities as an idol.
Their graduation ceremony will take place during Otome Shinto 3rd Live Sotsugyou Soshite Hajimari no Uta (乙女新党 3rdワンマンライブ 卒業 そして始まりのうた) which will take place on July 5 at Roppongi Theater in Tokyo.
This annoucement was made during the concert Haru Da! 2 Gun no Spring Carnival 2014 ~"Hoba Chuugakusei" kara "Hoba Koukousei" e~ (春だ!2軍のスプリングカーニバル2014~"ほぼ中学生"から"ほぼ高校生"へ~) held on March 23 at Daikanyama Unit.
Furthermore, Otome Shinto's 4th single Sakura Countdown (サクラカウントダウン) is on sale since March 5.