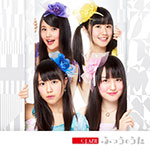 Grazie's new single Futsuu no Uta (ふつうのうた) will be released on March 26.
This is the debut single from Grazie.
Videos recorded at a live performance have been released.
The lyrics of both songs were written by Narita Naohito. The music was composed and arranged by Bekenstein.
The songs are a mix of different styles.
Moreover, Grazie will hold a live performance at Akihabara AsoBit City in Tokyo on March 30.
Tracklist
Futsuu no Uta (ふつうのうた)
Onee-chan no Koibito (お姉ちゃんの恋人)
Futsuu no Uta (ふつうのうた) (Instrumental)
Onee-chan no Koibito (お姉ちゃんの恋人) (Instrumental)
Video (Live)