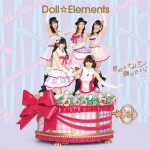 Doll Elements' new single Kimi no Tonari de Odoritai! (君のトナリで踊りたい!) will be released on April 2.
This is the first single from Doll☆Elements with this line-up as former YGA member Koizumi Haruka joined the idol group in January.
The MV has been released.
The CD includes 3 songs and their off vocal versions.
6 editions are available with different covers : 1 for all the members of the group, and 5 others for each one of them (Tonosaki Rika, Gonda Natsumi, Kojima Runa, Komori Yukino and Koizuki Haruka). The list of songs is the same.
Furthermore, Doll☆Elements is holding regular live performances at UDX Theater in Akihabara from February to April.
The 5th live of the idol unit will take place on May 11 at Daikanyama Unit in Tokyo.
Tracklist
Kimi no Tonari de Odoritai! (君のトナリで踊りたい!)
Baby Baby
Koi Shite Macaron (恋してマカロン)
Kimi no Tonari de Odoritai! (君のトナリで踊りたい!) (Instrumental)
Baby Baby (Instrumental)
Koi Shite Macaron (恋してマカロン) (Instrumental)
Music Video (PV)