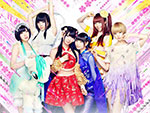 Dempagumi.inc Live DVD World Wide Dempa Tour 2014 will be released on April 23 under the label Toy's Factory.
The concert was held at Zepp DiverCity Tokyo on January 4, 2014.
The trailer movie has been released.
The setlist has 15 songs from the idol group.
The DVD also includes footage of solo songs by the members of Dempagumi.inc recorded during various live performances.
Furthermore, Dempagumi.inc's single Sakura Apparition (サクラあっぱれーしょん) is on sale since March 12.
Setlist
Hajimari. ~World Wide Dempa~ (ハジマリ。~World Wide Dempa~)
Demparade Japan (でんぱれーどJapan)
Future Diver
Vandalism
W.W.D
Nazokara (ナゾカラ)
Itsuka, Haruka kanata (イツカ、ハルカカナタ)
Kirakira Tune (キラキラチューン)
Fuyu he to Hashiridasu o! (冬へと走りだすお!)
Nantetta tte Shangri-La (なんてったってシャングリラ)
W.W.D II
Orange Rium
Tsuyoi Kimochi. Tsuyoi Ai (強い気持ち・強い愛)
Den Den Passion (でんでんぱっしょん)
Sakura Apparition (サクラあっぱれーしょん)
Bonus Video
Furukawa Mirin / Sorry, Lonely. (古川未鈴 / ソーリー、ロンリー。) (2014.1.4 Zepp DiverCity Tokyo)
Yumemi Nemu / Ano ne… Jitsu wa Watashi, Yumemi Nemu nan da…♡ (夢眠ねむ / あのね…実はわたし、夢眠ねむなんだ…♡) (2014.1.5 Zepp DiverCity Tokyo)
Naruse Eimi / Tokimeki Sucharaka Texas (成瀬瑛美 / トキメキ☆すちゃらかテキサス) (2014.1.11 Zepp Nagoya)
Fujisaki Ayane / P and A (藤咲彩音 / P and A) (2014.1.13 Zepp Namba)
Mogami Moga / New Romantic (最上もが / ニューロマンティック) (2014.3.2 Zepp Fukuoka)
Aizawa Risa / Promise of the World ~Ga Koso Sekai no Kyuuseishu~ (Promise of the World ~我コソ世界ノ救世主~) (2014.3.8 Zepp Sapporo)
Trailer