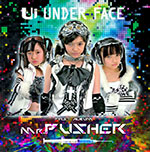 Under Face's 1st album Mr. Pusher will be released in April.
The album contains 8 tracks including their previous singles and new songs.
Under Face is a sub-unit of Smile Gakuen.
The lead song Mr. Pusher was composed by Gunn. It was inspired by The Pusher originally written by Hoyt Axton and popularized by Steppen Wolf the movie Easy Rider.
Short sample has been released.
Only one edition of the CD is available.
Furthermore, the idol unit has just celebrated its 1st anniversary.
Tracklist
Mr. Pusher
Mr. Pusher ( Instrumental )
Mr. Pusher ( Demo Version )
Skytower
yutori
Perfect Lolita
Tick-Tock-Clock
Wall Breaker