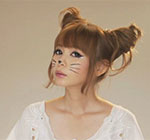 Nakagawa Shoko's new album 9lives will be released on April 2.
This is the 4th album from Shokotan.
The title refers to the 9 lives of a cat.
The MV and making-of footage have been released. However the viewing is restricted to some countries.
For this PV, Nakagawa Shoko had asked her fans to send her photos and videos of their cats. She is known for loving felines and owns 10 cats including Mamitasu who is appearing on the album cover.
In addition, a special T-shirt has been designed by Nakagawa Shoko's fashion brand mmts.
The CD contains 13 songs including Shokotan's latest singles.
The limited editions include a bonus DVD with the music video and live footage.
The special edition comes with a DVD, a booklet, a T-shirt and a luxury box.
Furthermore, Nakagawa Shoko will participate in Japan Expo on July 2-6, 2014 in Paris Nord Villepinte, France.
Tracklist
CD

Miracle a Go! Go!
9lives
Sakasama Sekai (さかさま世界)
Zoku Konton (続 混沌)
Shiroi Chou no Yume (白いチョウの夢)
Iiyo ne (イイヨね)
Seven Seas Romance
Millefeuille Nights
Darenimo Ienai Kiss no Ato(誰にも言えないキスのあと)
Chocolat Chaud
Nuigulumar Z (ヌイグルマーZ)
Once Upon a Time -Kibou no Uta- (Once Upon a Time -キボウノウタ-)
Ai Ippai, Sei Ippai (愛いっぱい、せいいっぱい)
DVD

9lives (Music Video)
Tokyo Shoko ☆ Land 2013 ~Dream and Magic and Greedy World ~ @ Mai Beach Ampitheater
2 Chaos @Zepp Sapporo
Music Video (PV) and Making-of