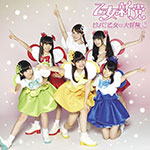 Otome Shinto's 5th single Viva! Otome no Daibouken!! (ビバ!乙女の大冒険っ!!) will be released on November 26.
Otome Shinto 2nd generation members are making their first appearance on this single.
The MV and making-of video from the photo session have been unveiled.
It is the ending theme song for the anime Ai Tenchi Muyo! (愛・天地無用!) airing on Tokyo MX since October 2014.
The lyrics of Viva! Otome no Daibouken!! (ビバ!乙女の大冒険っ!!) were written by Nobe. He had already worked with Otome Shinto on their previous singles. The music was composed by Denkyu.
The coupling song Dekoboko Kaiketsu Sensation (凸凹解決せんせーしょん) is performed by 1st generation members Tajiri Ayame and Takahashi Yurika. The song was released as a digital single in July 2014. It was written and composed by y0c1e.
The Type A comes with a bonus DVD featuring the music video and its making-of.
The Type B includes a documentary on the 2nd generation audition.
Furthermore, the members of the idol group are going to participate in a new show titled Otome Shinto no Nihon wo Genki ni Suru TV… Dekiru Hani de. (Kari) (乙女新党の日本を元気にするTV…できる範囲で。(仮)). This regular event will start on November 2 at Akiba Cultures Theater, Tokyo, and will be broadcast on NicoNico (ニコニコ).
Tracklist
CD

Viva! Otome no Daibouken!! (ビバ!乙女の大冒険っ!!)
Dekoboko Kaiketsu Sensation (凸凹解決せんせーしょん) / Ayame to Yurika
Viva! Otome no Daibouken!! (Off Vocal)
Dekoboko Kaiketsu Sensation (Off Vocal) / Ayame to Yurika
DVD (Type A)

Viva! Otome no Daibouken!! (Music Video)
Making-of
DVD (Type B)

New Members Audition Documentary (新メンバーオーディションドキュメンタリー)
Music Video (PV) & Making-of