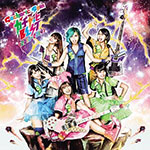 Gacharic Spin's major debut album Gachatto Best (2010-2014) (ガチャっとBEST<2010 – 2014>) was released on October 1st.
As its title suggests, this album includes the greatest hits of Gacharic Spin released under indies label between 2010 and 2014.
A video with the comments of the members of the Japanese female rock band has been unveiled.
The regular edition contains 13 songs including re-recorded versions.
The Type G and S editions include 2 bonus tracks. They come with a DVD featuring some music videos and bonus footage.
Furthermore, you can check out our report on the concert Gacharic Spin Live at Japan Expo held in July 2014 in Paris Nord Villepinte, France.
Tracklist
Regular Edition

CD

Lock On!!-2013-
Hunting Summer -2014- (ハンティングサマー-2014-)
Ima wo Ikiteru ~2013 Haru~ (今を生きてる〜2013年春〜)
Dangan Beat (ダンガンビート)
JUICY BEATS
Ben-Jan-Dan -2013-
More Power -2014-
Nudie Rhythm (ヌーディリズム)
Bakudan Musume (爆弾娘)
Boku Dake no Cinderella (僕だけのシンデレラ)
Takaramono (宝物)
Never say never
WINNER
Type G

CD

Lock On!!-2013-
Hunting Summer -2014-
Ima wo Ikiteru ~2013 Haru~
Dangan Beat
JUICY BEATS
Ben-Jan-Dan -2013-
More Power -2014-
Nudie Rhythm
Bakudan Musume
Boku Dake no Cinderella
Takaramono
Never say never
WINNER
Black Survival (ブラックサバイバル) feat.Fuki
Yuki Naku ~Sestunaku~ Melody -2014- (雪泣く〜setsunaku〜メロディー-2014-)

DVD

Gachatto Season SP (『ガチャっとシーズンSP』) <2009-2012>
Lock On!! (Music Video)
LosT AngeL (Music Video)
Yuki Naku ~Sestunaku~ Melody -2014- (Music Video)
JUICY BEATS (Music Video)
Nudie Rhythm (LIVE Ver.) (Music Video)
Ima wo Ikiteru ~2013 Haru~ (Music Video)
NEXT STAGE (Music Video)
Melo Melo Fantasy (メロメロファンタジー) (Music Video)
Boku Dake no Cinderella (Music Video)
WINNER (Bonus Music Video)
Type S

CD

Lock On!!-2013-
Hunting Summer -2014-
Ima wo Ikiteru ~2013 Haru~
Dangan Beat
JUICY BEATS
Ben-Jan-Dan -2013-
More Power -2014-
Nudie Rhythm
Bakudan Musume
Boku Dake no Cinderella
Takaramono
Never say never
WINNER
Black Survival (ブラックサバイバル) feat.Fuki
Across the now!! -2014-

DVD

Gachatto Season SP (『ガチャっとシーズンSP』) <2013-2014>
Lock On!! (Music Video)
LosT AngeL (Music Video)
Yuki Naku ~Sestunaku~ Melody -2014- (Music Video)
JUICY BEATS (Music Video)
Nudie Rhythm (LIVE Ver.) (Music Video)
Ima wo Ikiteru ~2013 Haru~ (Music Video)
NEXT STAGE (Music Video)
Melo Melo Fantasy (メロメロファンタジー) (Music Video)
Boku Dake no Cinderella (Music Video)
WINNER (Bonus Music Video)
Video