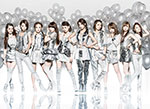 DiVA's new album DIVA will be released on November 5.
This is the first and last album of the AKB48 sub-unit DiVA before its disbandment.
It includes all their singles and songs written by Miyazawa Sae, Akimoto Sayaka, Umeda Ayaka, Masuda Yuka and former AKB48 member Oshima Yuko.
Check out the videos comments by the members of the idol group.
Miyazawa Sae wrote the lyrics of DIVA!.
Akimoto Sayaka was in charge of writing the lyrics of Hitori Omoi (一人想い).
Furthermore, DiVA's last single Discovery is on sale since October 8. It reached the 4th rank on Oricon Weekly Chart.
The idol group will hold a live performance on November 30 at Makuhari Messe. Special tickets for their final concert are included in DiVA's last album and in their last single. Further details on this event will be announced on their official website.
Tracklist
Type A

CD

Tsuki no Uragawa (月の裏側)
Cry
Lost the way
DISCOVERY
DIVA!
Daisuki + Daikirai = Daisuki! (大スキ+大キライ=大好き!)
Wow War Tonight ~Toki ni wa Okoseyo Movement~ (WOW WAR TONIGHT~時には起こせよムーヴメント~)
Hitori Omoi (一人想い)
You should know it…
Mousou Cinderella (妄想シンデレラ)
For tenderness

DVD

Tsuki no Uragawa (Music Video)
Cry (Music Video)
Lost the way (Music Video)
Wow War Tonight ~Toki ni wa Okoseyo Movement~ (Music Video)
5.DISCOVERY(Music Video)
Type B

CD

DIVA!
No way out
DISCOVERY
You should know it…
Kanashimi no Mirage (悲しみのMirage)
Hitori Omoi
Wow War Tonight ~Toki ni wa Okoseyo Movement~
Daisuki + Daikirai = Daisuki!
Mousou Cinderella
Information (インフォメーション)
For tenderness

DVD

DIVA Special Live @ Zepp Tokyo 2012/05/15
 Type C

CD

DIVA!
DISCOVERY
Fade out
Kanashimi no Mirage
Hitori Omoi
You should know it…
Wow War Tonight ~Toki ni wa Okoseyo Movement~
Chikasui Michi (地下水道)
Daisuki + Daikirai = Daisuki!
Mousou Cinderella
For tenderness

DVD

Interview of DIVA ~Questions and Answers~
Video