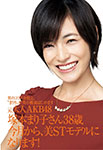 Tsukamoto Mariko (ex Otona AKB48) was appointed as a model for the beauty magazine 美ST.
Tsukamoto Mariko won the Otona AKB48 audition in April 2014. She appeared in commercials for Papriko and participated in various events with the other members of AKB48 during last summer.
美ST is a monthly magazine dedicated to "beautiful women in their 40s".
After being an idol, Tsukamoto Mariko continues her activities as a model.