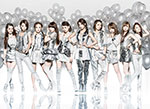 DiVA's new album DIVA will be released on November 5.
This is the first and last album of the AKB48 sub-unit DiVA before its disbandment.
It includes all their singles and songs written by Miyazawa Sae, Akimoto Sayaka, Umeda Ayaka, Masuda Yuka and former AKB48 member Oshima Yuko.
Check out the videos comments by the members of the idol group.