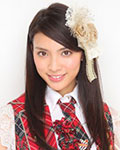 Akimoto Sayaka announced her graduation from AKB48. The date hasn't been determined yet.
Sayaka explained on her blog that she wants to experience something new and to become an actress. She also added that she won't participate in the 5th Senbatsu Election.
Akimoto Sayaka joined AKB48 in 2006 as a 2nd generation member. She is part of Team K that she captained. She is also a member of the sub-unit DiVA.