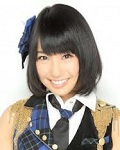 Masuda Yuka announced her withdrawal from AKB48.
She explained on her blog that she leaves the group due the publication of an article in a magazine reporting that she stayed overnight at the home of Da Pump member Issa, which is not allowed for her as an idol.
Masuda Yuka joined AKB48 in 2006. She was part of Team K and AKB48's subunit DiVA.