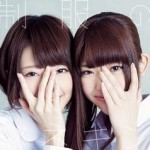 Nogizaka46's new single Seifuku no Mannequin (制服のマネキン) will be released on December 19.
This is the 4th single from Nogizaka46.
Seifuku no Mannequin is used as theme song for HTC J Butterfly smartphone TV CM.
Each CD contains 3 songs plus instrumental versions. B-side tracks are different depending on the edition.
Type A, B, and C editions include a bonus DVD.
The B-side song Yubi Bouenkyou is the ending theme for the anime Magi (マギ).
Tracklist
Regular Edition
CD

Seifuku no Mannequin (制服のマネキン)
Yubi Bouenkyou (指望遠鏡)
Shibuya Blues (渋谷ブルース)
Seifuku no Mannequin (制服のマネキン) (Instrumental)
Yubi Bouenkyou (指望遠鏡) (Instrumental)
Shibuya Blues (渋谷ブルース) (Instrumental)
Type A
CD

Seifuku no Mannequin (制服のマネキン)
Yubi Bouenkyou (指望遠鏡)
Yasashisa nara Ma ni Atteru (やさしさなら間に合ってる)
Seifuku no Mannequin (制服のマネキン) (Instrumental)
Yubi Bouenkyou (指望遠鏡) (Instrumental)
Yasashisa nara Ma ni Atteru (やさしさなら間に合ってる) (Instrumental)
DVD

Seifuku no Mannequin (制服のマネキン) (Music Video)
Yubi Bouenkyou (指望遠鏡) (Music Video)
Nigate Kokufuku! Ashita e no Ippo! Kojin PV (苦手克服!明日への一歩!個人PV)

Ando Mikumo
Ikoma Rina
Ito Nene
Inoue Sayuri
Kawago Hina
Saito Chiharu
Shiraishi Mai
Nagashima Seira
Fukagawa Mai
Yamato Rina
Wakatsuki Yumi
Type B
CD

Seifuku no Mannequin (制服のマネキン)
Yubi Bouenkyou (指望遠鏡)
Koko Janai Dokoka (ここじゃないどこか)
Seifuku no Mannequin (制服のマネキン) (Instrumental)
Yubi Bouenkyou (指望遠鏡) (Instrumental)
Koko Janai Dokoka (ここじゃないどこか) (Instrumental)
DVD

Seifuku no Mannequin (制服のマネキン) (Music Video)
Koko Janai Dokoka (ここじゃないどこか) (Music Video)
Nigate Kokufuku! Ashita e no Ippo! Kojin PV (苦手克服!明日への一歩!個人PV)

Akimoto Manatsu
Ito Marika
Eto Misa
Kawamura Mahiro
Nakada Kana
Nakamoto Himeka
Nishino Nanase
Hatanaka Seira
Matsumura Sayuri
Miyazawa Seira
Type C
CD

Seifuku no Mannequin (制服のマネキン)
Yubi Bouenkyou (指望遠鏡)
Haru no Melody (春のメロディー)
Seifuku no Mannequin (制服のマネキン) (Instrumental)
Yubi Bouenkyou (指望遠鏡) (Instrumental)
Haru no Melody (春のメロディー) (Instrumental)
DVD

Seifuku no Mannequin (制服のマネキン) (Music Video)
Haru no Melody (春のメロディー) (Music Video)
Nigate Kokufuku! Ashita e no Ippo! Kojin PV (苦手克服!明日への一歩!個人PV)

Ikuta Erika
Ichiki Rena
Saito Asuka
Saito Yuuri
Sakurai Reika
Takayama Kazumi
Noujo Ami
Hashimoto Nanami
Higuchi Hina
Hoshino Minami
Wada Mahya
Limited Edition (Anime Edition)
CD

Seifuku no Mannequin (制服のマネキン)
Yubi Bouenkyou (指望遠鏡)
Yubi Bouenkyou ~Anime Version~ (指望遠鏡~アニメ版~)
Seifuku no Mannequin (制服のマネキン) (Instrumental)
Yubi Bouenkyou (指望遠鏡) (Instrumental)
Nogizaka46 – Seifuku no Mannequin (PV)