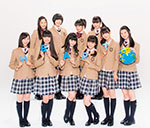 Sakura Gakuin's DVD single Heart no Hoshi (ハートの地球) will be released on October 22.
Sakura Gakuin's new song is produced by Tommy february 6 and Shunsaku Okuda who had already worked with the idol group on the single My Graduation Toss in February 2013.
The short version of the MV has been unveiled.
The girls appear as members of Sakura Gakuin and of the "people of Rakusa" (ラクサの民) living in parallel worlds connected by a magical door.
The DVD includes the music video and either its dance version or its making-of depending on the edition.
It is available on iTunes Store since October 15.
Tracklist
Type A

Heart no Hoshi (ハートの地球) (Music Video)
Heart no Hoshi (Dance Video)
Type A

Heart no Hoshi (Music Video)
Heart no Hoshi (Making-of)
Music Video (PV)