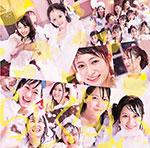 NMB48's 10th single Rashikunai (らしくない) will be released on November 5.
The list of the Senbatsu members has been announced.
Check out the MV for all songs.
The Senbatsu members on NMB48's 10th single are
Team N : Jonishi Kei, Kashiwagi Yuki, Kato Yuuka, Kotani Riho, Nishimura Aika, Yamamoto Sayaka, Yoshida Akari
Team M : Fujie Reina, Kinoshita Momoka, Kushiro Rina, Murase Sae, Shiroma Miru, Tanigawa Airi, Yagura Fuuko, Yamada Nana
Team BII : Ichikawa Miori, Kadowaki Kanako, Shibuya Nagisa,  Takayanagi Akane, Umeda Ayaka, Watanabe Miyuki, Yabushita Shu
The coupling song Tomodachi (友達) is performed by Yamamoto Sayaka and Yamada Nana. The footage was recorded at the NMB48 4th Anniversary Live.
Each edition includes a photo of a member of the idol group randomly selected.
Furthermore, Yamada Nana announced her graduation from NMB48.
Tracklist
Type A

CD

Rashikunai (らしくない)
Tomodachi (友達)
Kyuusen Kyoutei (休戦協定) / Team N
Rashikunai (Off Vocal)
Tomodachi (Off Vocal)
Kyuusen Kyoutei (Off Vocal)

DVD

Rashikunai (Music Video)
Rashikunai (Dance Version)
Kyuusen Kyoutei (Music Video)
Kotani Riho Live (小谷里歩独演会)
Type B

CD

Rashikunai (らしくない)
Tomodachi (友達)
Migi ni Shiteru Ring (右にしてるリング) / Team M
Rashikunai (Off Vocal)
Tomodachi (Off Vocal)
Migi ni Shiteru Ring (Off Vocal)

DVD

Rashikunai (Music Video)
Rashikunai (Dance Version)
Migi ni Shiteru Ring (Music Video)
Hajimete no Burari 2-nin Tabi (Akashi Natsuko & Yamao Rina) (はじめてのぶらり2人旅<明石奈津子/山尾梨奈 編>)
Hajimete no Burari 1-nin Tabi (Suto Ririka) (はじめてのぶらり1人旅<須藤凜々花 編>)
Type C

CD

Rashikunai (らしくない)
Tomodachi (友達)
Star ni Nante Naritakunai (スターになんてなりたくない) / Team BII
Rashikunai (Off Vocal)
Tomodachi (Off Vocal)
Star ni Nante Naritakunai (Off Vocal)

DVD

Rashikunai (Music Video)
Rashikunai (Dance Version)
Star ni Nante Naritakunai (Music Video)
NMB48 feat. Yoshimoto Shinkigeki Vol.10
Theater Edition

CD

Rashikunai (らしくない)
Tomodachi (友達)
Asphalt no Namida (アスファルトの涙)
Rashikunai (Off Vocal)
Tomodachi (Off Vocal)
Asphalt no Namida (Off Vocal)
Music Video (PV)