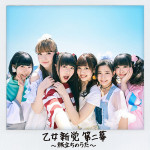 Otome Shinto will release 2nd album Otome Shinto Dai 2 Maku ~Tabidachi no Uta~ (乙女新党 第二幕 ~旅立ちのうた~) on June 29.
This is also the last album of Otome Shinto before its break up.
A trailer video has been unveiled.
The album will contain the singles of the idol group recently released : Viva! Otome no Daibouken!!, Kimi to Piikan☆Natsu Sengen!!!, Tsuchinoko tte Iru to Omou…? ♡ et Ame to Namida to Otome to Taiyaki. It will also contain the B-side songs of some singles, in different versions for this album.
Alot of songs of this album are written by NOBE.
Three songs are performed by some members of the group (as duet).
Otome Shinto are going to disband on July 3, 2016 after a last live performance at Tsutaya O-West in Tokyo.
Tracklist
Viva! Otome no Daibouken!! (ビバ!乙女の大冒険っ!!)
Toriko Toriko Toriko (とりことりことりこ)
Kimi to Piikan☆Natsu Sengen!!! (キミとピーカン☆Natsu宣言っ!!!)
N to S (Mari and Mayu from Otome Shinto) (NとS)
Tsuchinoko tte Iru to Omou…? ♡ (ツチノコっていると思う…?♡)
Faiyaiya!!! (Album version) (ファイヤイヤっ!!!)
Dekoboko Kaiketsu Sensation (Ayame and Yurika from Otome Shinto) (凸凹解決せんせーしょん)
Mune wo Hattekou! (胸を張ってこう!)
Sekai de Ichiban ga Suki (Arisa and Airi from Otome Shinto) (世界で一番君が好き)
Ame to Namida to Otome to Taiyaki (Album version) (雨と涙と乙女とたい焼き)
Shin・Otome Shinto no Uta (新・乙女新党のうた )
Trailer