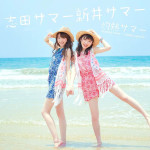 The group Shida Summer Arai Summer reveals its new single Shakunetsu Summer ~Summer King x Summer Queen~ (アッパーな「灼熱サマー ~SUMMER KING × SUMMER QUEEN~) which will be on sale on July 6.
This single will be the only disk of the group since it will be active for this summer only. The theme of the single is "summer".
The members Shida Yuumi (Yumemiru Adolescence) et Arai Hitomi (Tokyo Girls' Style) formed the unit group in May to release this single.
The music video was unveiled.
The title song is a pop song full of energy.
The CD will contain the titled song and an other summer song Konya wa Gozen Summer.
The limited edtion DVD will contain the music video and its making-of.
Tracklist
Shakunetsu Summer ~Summer King x Summer Queen~ (アッパーな「灼熱サマー ~SUMMER KING × SUMMER QUEEN~)
Konya wa Gozen Summer (今夜は午前サマー)
Shakunetsu Summer ~Summer King x Summer Queen~ (Instrumental)
Konya wa Gozen Summer (Instrumental)
Shakunetsu Summer ~Summer King x Summer Queen~ (Music Video)
Shakunetsu Summer ~Summer King x Summer Queen~ (Making Of)
Music Video (PV)