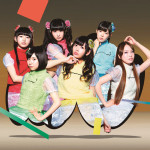 Otome Shinto's 7th single Tsuchinoko tte Iru to Omou…? (ツチノコっていると思う…?♡) will be released on November 18.
The members of the idol group turned into cute Tsuchinoko, a mythical snake-like creature from Japan whose name's literal translation is "child of hammer".
Check out the MV and the dance lecture.
The lyrics of the title song were written by Kiyoshi Ryujin. He has also composed the music. The sound was arranged by Hayashi Baie Tomonori (Plus-tech Squeeze Box).
In addition, Otome Shinto are going to hold a joint live performance with the songwriter's idol group Kiyoshi Ryujin 25 on November 13 at Tokyo Unit.
The coupling song was written and composed by Asano Takashi. It was arranged by Markov.
Furthermore, Otome Shinto One-Man Live Tour 2015 will take place on December 19-23 in Nagoya, Osaka and Tokyo.
Tracklist
CD

Tsuchinoko tte Iru to Omou…? (ツチノコっていると思う…?♡)
Mune wo Hatte Kou! (胸を張ってこう!)
Tsuchinoko tte Iru to Omou…? (Instrumental)
Mune wo Hatte Kou! (Instrumental)
DVD (Type A)

Tsuchinoko tte Iru to Omou…? (Music Video)
Making-of
DVD (Type B)

Tsuchinoko tte Iru to Omou…? (Dance Shot Video)
Tsuchinoko Dance Lecture Movie (ツチノコダンスレクチャー映像)
Music Video (PV)